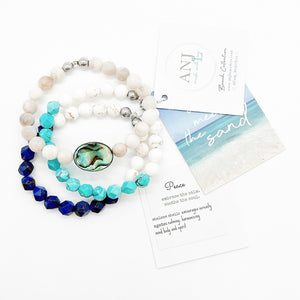 Summer Serenity Stack
$9200

$92.00
The ANJ July Stack of the Month includes a new Peace grey white lace faceted agate with abalone shell center stone.  Agate and abalone shell are both calming promoting peace and serenity.

Paired with 2 new exclusive Ocean Meets the Sand with diamond cut jasper stones in lapis blue and turquoise, paired with off white/tan howlite. 
*Handmade in Plymouth, Ma.
---